Investigators: Foul play not suspected in fire that killed mother, daughters | News
Title (Max 100 Characters)
Investigators: Foul play not suspected in fire that killed mother, daughters
TUCKER, Ga. --Investigators tell 11Alive News they do not suspect foul play in the fire that killed a mother and her two daughters. 
Brent Patterson returned to the scene of the house fire Wednesday afternoon with burns on his arms and legs. He told 11Alive's LaTasha Givens his family was upstairs getting ready for bed when he heard a loud popping noise. He went downstairs to investigate and found the first floor in flames.
"I think they were asleep, I hope to God they were. I think they were asleep," he said. "I heard a noise. I came down in socks and underwear and everything exploded."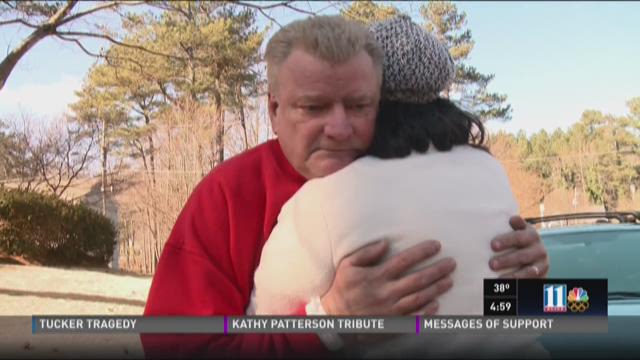 "He yelled back upstairs for the mother and daughters to get out, to escape," DeKalb County Fire Captain Tommy Rutledge said. "He went outside the home, tried to reenter the home but was not able to go back inside. In fact, a neighbor also tried to assist him with getting into the back of the home."
Patterson said he and a neighbor tried to use a shovel to break in the back door, but the heat overwhelmed them.
Rutledge said firefighters were not only battling the flames, but also the wind. "This was a wind-driven fire; it was able to spread quickly throughout this home from the main level to the second level into the attic and cross the front of the house," he said. "Firefighters were not able to immediately enter the house due to the intense fire they had to battle this blaze outside the building just to knock down the bulk of the flames."
Brent's family never made it out. Kathy Patterson, 12-year-old daughter Kayla, and 9-year-old daughter Madeline perished in the fire. 
The incredible loss is described again and again by neighbors as a tragedy. 
PHOTOS | Kathy Patterson and family 
"It was just heartbreaking to really just think about the loss. The fact that a mother and kids passed its just heart breaking, its a tragedy," neighbor Jefferey Cleveland said. 
A GoFundMe page has been set up to help pay for funeral expenses. Click here for more details.